To submit your website and become our partner, you must complete these three steps.

1. Your company has to be in the trucking industry and not be a direct competitor of SemiDispatch.
2. You need to place the code below on your website before we can put you link on our homepage.
3. You need to fully fill out the form on the right.


Code


The banner will look like this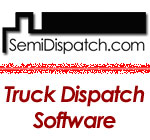 You can e-mail us at Support@SemiDispatch.com with any questions, concerns or feedback or fill out the form below.